(+47) 57 86 64 22

post@firdafysmed.no
Information for medical professionals
Neck injury diagnostics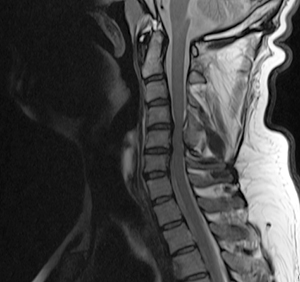 Many people suffer from debilitating symptoms and reduced neck function after neck injuries. Precise diagnostics of neck/head dysfunction with symptoms and sequela of neck injuries are therefore very important. In Norway, we are fortunate to have an excellent healthcare system with modern equipment, skilled professionals, and comprehensive procedural routines which are accessible in order to follow up on these diagnostic challenges.
However, we notice that many patients do not get the follow up care they should have had in relation to their significant symptoms and ailments in direct conjunction with diagnostics and treatment. Many people today have such incapacitating symptoms that it prevents them from returning to work, while also negatively impacting their overall quality of life.
At Firda Physical Medicine Centre, we actively approach functional, clinical, and radiological diagnostics. The more detailed knowledge we have about structure and function, the better equipped we are at initiating more effective treatment methods.
It has been more than ten years since Kråkenes and Kaale finalised their pilot projects on new MRI methods and clinical diagnostics. Upon reviewing the aforementioned works there were various discussions and disagreements about the interpretation of the MRI results, and to what degree one should utilize this method in clinical practice. Consequently, the method was not widely adopted, and as a result medical practitioners continued their existing methodology without deviating from their current radiological approach. This was a conclusion that we at Firda Physical Medicine Centre vehemently disagreed with.
International Cooperation
Internationally, a lot has taken place over the last ten years. Upon contacting medical institutions in other countries, one sees that the pilot projects of Kråkenes/Kaale have not gone unnoticed. It is encouraging to see that our work has proven beneficial to medical milieus such as radiological imaging centers, clinics, and academic institutions that specialize in treating individuals with neck ailments and injuries.
At Firda Physical Medicine Centre we utilize the Norwegian healthcare system's expertise in medicine and radiology. This leads to excellent results in many cases. However, in some instances, there is still room for improvement. Therefore, we have developed and maintained an excellent rapport with highly skilled medical professionals abroad for several years.
Dr. John Postlethwaite in Tampa, Florida, uses Digital Motion X-ray which provides a useful examination of the active function of the neck in different planes. I have personally accompanied several patients to Florida during the last two years. In hindsight, this has provided us with invaluable information which allowed us to implement better and more effective treatment methods. (See www.dmxworks.com). When this equipment becomes CE approved it is our goal to bring this equipment to Norway.
Dr. Simon Blease at The European Scanning Center in London offers special imaging series with dCT and dMRI. This is a costly examination, but it provides extraordinary high quality imaging - either of the skeletal system or of soft tissues in function while positioned or under stress. Yes, we are aware that Norwegian MRI can perform more detailed imaging, but in these cases the patient lies flat, in a neutral position, without the relevant structures being extended or under stress. We believe this difference is of critical importance. (See www.europeanscanning.com)
Dr. Francis Smith at The Medserena Upright MRI Center in London (see www.mri-london.com) has specialized in dMRI, and measuring cerebrospinal fluid flow. International literature has for a few years now pointed to changes in CSF flow as a possible contributing cause of main symptoms. Changes in CSF flow can arise after neck/head injuries and trauma. We are following these developments closely, and are in direct contact with Dr. Smith in London. As of today the CSF method is slightly premature. Moreover, its high degree of sensitivity, visual artifacts, and "faulty signals" compromise the integrity of the results.
It is especially exciting to follow the developments in regenerative medicine. Precise diagnostics are crucial for a successful result, whether one uses prolon therapy, PRP, or stem cell therapy. Firda Physical Medicine Centre has been monitoring these developments closely, and we are working in conjunction with Dr. Schultz and Dr. Centeno in Denver, Colorado. (See www.regenexx.com ).
Dr. David Harshfield is an experienced and highly proficient radiologist in Little Rock, Arkansas. We have collaborated across the Atlantic and through joint meetings In the United States of America for the last three years, and this has also proven beneficial for the patients at Firda Physical Medicine Centre. As a consequence of this collaboration, they have received more accurate diagnoses, so that more effective treatment / rehabilitation procedures could be implemented. We are both members of The American Association of Orthopedic Medicine. Common interests regarding more specific and correct diagnostics for patients with neck injuries has brought us together as professional partners. Important fields of study which we collaborate on include a focus on better targeted and functional MRI, as well as an interest in regenerative medicine. David is a pioneer within his field, and I am proud to be able to take part in the innovation of his work.
Dr. Joel Franck is a distinguished American neurosurgeon at Bay Neurosurgical and Spinal Institute in Panama City. He is recognized for his surgical technique for repairing instabilities between the 1st and 2nd cervical vertebrae. I have become familiar with his work through correspondence and joint meetings in the United States of America. Joel is a leader within his field. Presently, we are somewhat hesitant to utilize his treatment measures. In order to recommend such an invasive procedure it is important to have sound knowledge about the overall risks and both long and short-term effects. Further research within this field will in the future provide further insight and imperative knowledge, so that we can utilize this treatment method in those cases where it is necessary and beneficial.
Exercise Caution
The Internet and increased travel has made international medical diagnostics and treatments more accessible. It is easier today for patients to search abroad for more effective treatment methods, diagnostics, and rehabilitation. One should always proceed with caution before making a decision regarding treatment and diagnostic options, as the medical offers are diverse but often vague. Other countries also have a different culture than what we are used to here in Norway in regards to selling and promoting their products in a hectic healthcare marketplace. We firmly believe that it is important to tread carefully before committing to any unsubstantiated treatment facility.
At Firda Physical Medicine Centre at Sandane, we have worked internationally for several years now. We are working diligently to assemble a collaboration between Norwegian healthcare providers and international healthcare providers who specialize in diagnostics and various treatment options, and we remain convinced that there is significant potential in maintaining these partnerships for years to come.
---
General info
Neck injuries
Information for travelers
About us
User survey results
Question: "How do you rate the treatment you had at Firda Physical Medicine Centre relative to any treatment you had before coming to us?